This detective story refuses any neat endings – to great effect.
Postscript
The New Theatre
**** This article appeared in The Irish Times on Wednesday 11th of September
2013, by Sara Keating
There are five crucial elements to a detective story, Noelle Brown tells us in the opening moments of Postscript: setting, character, plot, problem, and solution. Postscript is the story of Brown's own search for details of her childhood adoption, and she takes on a fictional identity – that of private investigator Breda Browne – as a means of protecting herself from the inevitable hurt that her search will cause both for her and her adopted family. It is a moving story stoically enacted by Browne and Bríd Ní Neachtain, who beautifully brings to life the letters that form the linchpin of Browne's journey. It is where Postscript deviates from its narrative inspiration, however, that it becomes most interesting, as Brown, along with co-writer Michele Forbes, refuses the neat problem-solution trajectory of the traditional detective story. This makes for a slightly uneasy, jagged structure that Conor Hanratty refuses to tame. It also makes Postscript a more powerful piece of work.
Ends Sept 1
A POSTSCRIPT OF DELIGHT – review by Emer O'Kelly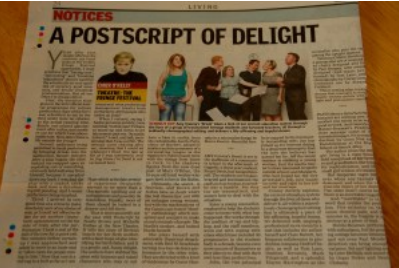 By Emer O'Kelly
Sunday 15th September 2013
Plays which articulate personal experience frequently amount to no more than therapeutic
spelling out of unhappiness and possibly its resolution. Frankly, most of them should be
locked in a drawer and left there.
That is most assuredly not the case with Postscript by Noelle Brown and Michele Forbes
at the New Theatre. It tells the story of Brown's search for her birth mother, with a faint hope of also identifying her birth father; and it is gentle, sad, funny delight. The authors have stabbed the piece with humour and raised characters who may or may not have base in reality from the redoubtable Auntie Patty, sister of Noelle's adoptive mother and the possessor of a coruscating tongue as she regales her Dublin based niece with the doings from home in Cork, to the shadowy figures from the now dead past of Mary O'Brien, the 18-year-old hotel worker who gave birth to her in the sixties.
Ultimately, the search is fruitless, and Brown and Forbes have no doubt where the real
shame lies: not with the unhappy young women but with the machinations of the Canon
Law-based "character" methodology which conspired and conspire to make moral
criminals of people like Noelle's mother…and indeed Noelle herself.
She plays herself with admirable theatrical detachment, with Bríd Ní Neachtain turning in
a tour-de-force performance in the other roles. They are directed with a kind of tenderness by Conor Hanratty in a minimalist design by Maree Kearns. Beautiful Fare This article appeared in The Sunday Independent on September 15 2013 by Emer
O'Kelly.
Irish Theatre Magazine. Review by Jesse Weaver. Star rating:
From a young age, Noelle Brown knew something was amiss. Her light skin and red hair
stood out in a family with dark hair and sallow complexions. Told early on by loving
parents that she was adopted, Brown decides as an adult to track down her birth mother
and uncover the circumstances that prompted her being given up for adoption.
Co-written with Michéle Forbes, this two-woman show casts Brown as a sort of private
detective hunting down clues and following up leads. The plot unfolds in a series of
missives from Brown's adopted Aunt Patty (played with great vivacity by Bríd Ní
Neachtain) and those who knew her natural mother Mary. But unlike a pulp murder
mystery where the hard-nosed P.I. finally puts all the clues together and uncovers the
truth, the question of why Mary gave up Noelle remains frustratingly out of reach.
Forbes and Brown's writing is active and taut, placing us squarely in Brown's shoes as
she discovers tantalizing details about Mary's life, but never the full picture. Director
Conor Hanratty keeps the staging simple but dynamic, and his actors' performances
restrained and engaging. Conleth White's lighting and projections cast the perfect ghostly glow in establishing different states and settings, and Maree Kearns sparse set utilises the subtlest details (two gray chairs, a massive parchment-like backdrop) in bringing texture to the playing space. This is a haunting retrospective that makes you question the family history written on your face and buried in your genes of "A moving story stoically enacted by Brown and Bríd Ní Neachtain, who beautifully brings to life the letters that form the linchpin of Brown's journey… powerful piece of work. The Irish Times
"Forbes and Brown's writing is active and taut… director Conor Hanratty keeps the staging simple but dynamic, and his actors' performances restrained and engaging" The Irish Theatre Magazine
"A gentle, sad, funny delight". Sunday Independent