Is gingerism light-hearted fun, or the seeds of a more malevolent prejudice?
Peter Crawley
Foxy
Project Arts Centre, Dublin
***
Is there ever such a thing as the lighter side of prejudice? Or does any
marginalisation, from playground taunts to online bullying, curdle steadily
into hatred?
With fleet means and an engaging lightness of touch, Noelle Brown's new play
begins as an exploration of "gingerism", a discrimination against redheads so
casual and unchecked, the show even opens with a catchy song about it.
Performed live by Sarah Kinlen, Ode to Redheads is a clever trap, a catalogue
of such imaginative and juvenile abuse that it's hard not to laugh at the chorus
("Your head is on fire") or the snaking thoughts within its verses: "Your gene's
in recession, but so is the world's economy."
Brown's play, inspired by real circumstances and events, but woven together
as fiction, is a similarly considered and coiled affair. We begin with Mark
Fitzgerald's Irishman abroad, a redhead in New York, stunned to discover that
an American spermbank is no longer accepting redhead donors (owing to lack
of demand) and further goaded to believe that the gene may be dying out.
Naturally, for further research, he hits the internet, the modern valley of the
twitching curtains, where matters of discrimination are vigorously debated on
"ginger forums" and rumours breed on message boards. Brown supply lets the
tale wander from this figure, though, a "white middle-class well-educated
male" for whom "everyone else is 'other'", to the story of a Traveller, played by
Michael Collins, at the centre of a clear case of ethnic profiling. As a Traveller
among settlers, he says, "You try to stay invisible," a piercing sentiment even
before the sharpening lens of the Carrickmines fire disaster.
Director Oonagh Murphy wisely doesn't need to amplify anything for effect.
Staged in the traverse, across a floor strewn with autumnal leaves, her cast
address us with a nimble directness, where Sorcha Fox winningly summons a
myriad voices, moments of conflict are communicated with subtly affecting
movement, and any threat of self-seriousness is avoided with ironic humour:
"Caps lock on," says Mark, as he becomes a righteous chatroom warrior.
Brown and Murphy are more effectively lowercase; like a toy that emerges
unseen from the foliage, they artfully explore the consequences of what we
keep buried just below the surface. Until Nov 7th.
FOXY – PROJECT ARTS CENTRE ⋄ 27TH OCTOBER – 7TH NOVEMBER 2015
Seeing red.
CHRIS MCCORMACK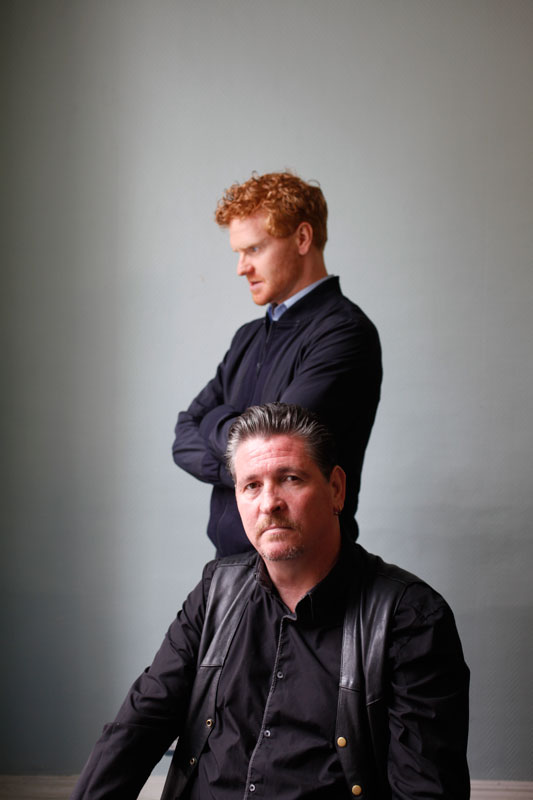 Exploring the redhead prejudice.
Two years ago, The Guardian published a column: "Gingerism is real but not all prejudices are equal to one another". According to red-haired author Ally Fogg, it's deeply flawed to compare that model of bullying with other systems of prejudice such as sexism, racism and homophobia. But how far removed is it?
Drawing on a case of false abduction last year centring on the hair colour of a Roma child, playwright Noelle Brown astonishingly shows that 'gingerism' and racial violence can go hand in hand.
Her clever new play for Verdant Productions begins with Mark (a benevolent Mark Fitzgerald) slowly revolving in solemn spotlight to the gentle cooing of composer and guitarist Sarah Kinlen, her lyrics funnily sympathetic: "Your genes may be in recession / but so is the economy … You can be seen from space". He details his happy existence as an Irish redhead in New York, mistaken by locals for Glen Hansard or Ed Sheeran, an exotic object of good luck and charm. However, upon reading a newspaper article about a Danish sperm bank turning away red-haired donors, he's suddenly conscious to the increasing scale of prejudice towards his kind.
Director Oonagh Murphy intelligently plays the action in the traverse, across a floor strewn in decaying yet vibrant auburn leaves in Maree Kearn's rich set design. At each end of the playing space, microphones are positioned where the wry Sorcha Fox often channels the trolls of 'ginger chatrooms' who bait the "famous red temper" with an apathetic "LOL". Brown cast herself as a detective in a search for her own birth mother in her last play Postscript, and writes Mark as a similar investigator, trying to track down the only other red-haired child from his school days. Her flare for the genre shows: a sophisticated structure makes events difficult to anticipate. Murphy measures the reveals to powerful effect, such as when a playground taunt ("Annie … Beaker … Pippi Longstocking …") takes on a different incorrectness ("Knacker").
Mark's childhood peer is a traveller, and his search for her leads to a bizarre situation involving the police and her husband Michael, who, in the articulate figure of actor Michael Collins, dispels some of the myths surrounding the community. Responding to an attack on his identity based on his settled residential situation, he asks: "Does an Irishman who works in England for 20 years become any less Irish?". Signs of marginalization are sensibly brought to the fore, from the neglect of law authorities to intervene in crimes to the humiliation of being barred from a restaurant or pub. Yet, it is also a celebratory account of a community, their luck devices and pastoral autonomy, as enshrined in a beautiful song framing the starry night sky as Christmas fairy lights. From a shocking scene of confrontation between police and traveller, poignantly measured over the delicate hum of Denis Clohessy's sound design, we realise where Irish hang-ups on hair-colour and racial profiling unfortunately coincide. Further disturbing is where they combine as a prerogative in law-keeping. Browne's call for solidarity is even more timely considering the opposition to rehousing the survivors of a fire at a Traveller halting site in Dublin earlier this month. For redheads, things are far from coming up roses.
Foxy – Project Arts Centre – Review
27 October 2015-07 November 2015 8.15pm
Tickets €16/14
Foxy is the tale of a man that carries a mutant gene; one that differentiates him from the majority of humanity. It makes him an outcast in Ireland and an oddity overseas, and all it does is alter the colour of his hair. Mark is a red head. He has never been troubled by the colour of his hair, despite the many insults he received during his childhood. After reading a newspaper article on a sperm banks that refused red haired donors, he sets out to discover what separates his kind from the rest of humanity.
From this initial search, the story broadens into a discussion on other types of prejudice. The set for this production in the Project Cube is simple and quite striking. As you enter the theatre, the seats are on two sides of the space, with the floor in-between covered in fallen leaves. There are strong lights on either side of the stage, casting an orange glow onto the space. The play opens with a song, with guitar and vocals working through the many insults that redheads receive on a daily basis. It's an effective way of allowing us to see how unrelenting this abuse is.
The style of the play is quite loose with the actors playing a variety of parts. There is no cohesive, linear storyline and instead we get to see and hear a collection of memories, thoughts and ideas on the topic. The actors move between characters in internet chat rooms, busybody neighbours, Gardai and beyond. The play is quite topical, with the Carrickmines fire still fresh in the mind, and the actions of the locals that didn't want the families resettled near them. Also, the recent settlement of the case where a blonde child that was removed from his Roma parents, which served as a springboard for parts of this storyline. Foxy is a play that aims to give an insight into the everyday racism or prejudice that those with red hair receive. While it is often seen as light-hearted banter, it can have a deep impact on those on the receiving end. It also moves from this topic onto a more difficult one, which is the way Irish society treats the travelling community. It's a thorny issue, but this tale uses a powerful tool to discuss it; humour. There are many hilarious moments, but it can also leave you squirming in your seat and questioning your own prejudices. It is a bright and well crafted play that opens a debate that is worth having.
Written by Noelle Brown
Directed by Oonagh Murphy
With Michael Collins, Mark Fitzgerald and Sorcha Fox
Set Design by Maree Kearns
Costume Design by Liv Monaghan
Lighting Design by Kevin Smith
Sound Design by Denis Clohessy
Composer: Sarah Kinlen