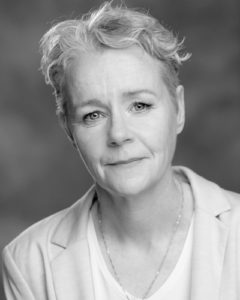 Noelle Brown has been an actor since 1987. She has appeared at the Gate Theatre in A Christmas Carol, Peer Gynt, Pride and Prejudice, Eccentricities of a Nightingale, Anna Karenina and Jane Eyre. Other work includes: Dancing at Lughnasa (Abbey Theatre, Gaiety and Australian Tour), Ladies and Gentlemen (Glass House), Anatomy of a Seagull (Loose Canon), Juno and The Paycock (ART/Cork Opera House), Rosencrantz and Guildenstern are Dead (Abbey Theatre), Romeo and Juliet (Abbey Theatre), Sharon's Grave (Druid), Learning to Love Doreen Nolan (Druid), Speaking in Tongues (Civic Theatre), Happy Birthday Dear Alice, Deathtrap and The Constant Couple  (Red Kettle). She has also appeared in The Plains of Enna, Wired to the Moon, (Fishamble), Starchild (Storytellers), The Whisperers, (Rough Magic, Edinburgh Festival), Hang all the Harpers (Dubbeljoint), Translations, The Scatterin', Borstal Boy (Gaiety), The Native Ground (Team Theatre Company), Fear of Feathers (Wet Paint), The Illusion (Charabanc), Sarcophagus, En Suite (Peacock), Ghosts (Peacock and New York), Zoe's Play (Ark and Kennedy Centre Washington), Listowel Syndrome (Dublin Fringe Festival), Plasticine (Corcadorca), Bogboy (Tall Tales, Irish Arts Centre New-York), Woman and Scarecrow ( Blood in the Alley, Irish Tour and  the Centre Culturel Irlandais Paris), Factory Girls (Shirt Factory Derry, Milennium Forum and Irish Tour), The Importance of Being Honest Something Unspoken(Bewley's Café Theatre).
POSTSCRIPT (Fringe Festival/Irish Tour/Centre Culturel Irlandais Paris and Abbey Theatre (Peacock)), Monday's Child (Barnstorm/UK Tour) & Irish Tour), The Importance of Being Honest, Something Unspoken (Bewley's Café Theatre) The Touching Contract (Jesse Jones and Sarah Browne, Polar Night, (Dublin Fringe Festival) Unmanageable Sisters (Abbey Theatre).
For Second Age Theatre Company she has appeared in As You Like it, Hamlet, The Merchant of Venice and Macbeth.
Television and Film credits include: Ripper Street (Tiger Aspect) Glenroe, Fair City, Upwardly Mobile, Molloy, On Home Ground, The Clinic, No Tears, Making the Cut, The Ambassador, Bachelor's Walk, (RTÉ), Father Ted (Channel 4), Damage (Subotica), The Governor (BBC), The Politician (Fontenoy Films), Veronica Guerin (Touchstone), Bogwoman (Hindsight Films), Day One (RTÉ Shortcuts) and The Secret of the Cave (Zach C. Gray). She has worked extensively for B.B.C. Radio 4 appearing in numerous Radio plays and reading Short Stories.